Today, I'm linking up with
Foursons
for
Letter of Intent Friday
. I had a terrible case of road rage yesterday, and am taking today to write all of the idiot drivers I encountered.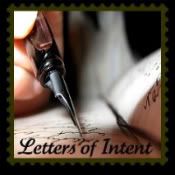 Dear Idiot Drivers of the South,
Yesterday afternoon I set out to visit my 83 year old Grandmother, just as I do each and every Thursday. Since our move last Summer, the seemingly short drive to her house (20 minutes), has now turned into a much longer one (35 minutes). I have to face traffic, every Thursday, bad traffic that YOU have created. It doesn't have to be bad. YOU make it bad.

For instance, speed limits. You CAN go 5 miles over the speed limit. You WILL NOT get pulled over. You DON'T have to keep your speedometer between the speed limit and fives miles under. It's pointless, it gets on my nerves and you WILL cause accidents that way.

Next, just take your stupid foot off of the brake! It is not necessary to tap it every few seconds. How are the cars behind you supposed to know when you are seriously braking, if you are constantly tapping the brakes? I mean really, do you want to get hit?

When you make a turn, you DO NOT have to take a whole 100 seconds to get into the turning lane. Just a quick swift of the wheel, and you're there! It doesn't require a lot of brakes, especially if there is no one in the turning lane you are getting into. I almost hit the corner of your back bumper yesterday for this very reason, and no...I would not have stopped. I would have kept going, because all I wanted to do was get over into the middle lane and you wouldn't drive any faster to allow me to do that. You. Stupid. Idiot.

Also, the traffic lights do eventually change from red to green, and it is in your best interest to pay attention. I will lay down on my horn. Don't try me. You made me sit through two different traffic lights yesterday, while you barely made it through them, because you weren't paying attention when the other dozen cars around you started moving. I was NOT happy about this. I may have even let a cuss word slip, at that last traffic light you left me sitting through.

And last, but not least, STAY IN YOUR LANE! How hard is that? I mean really. There are lines in the road for a reason. Those are lane markers! They mark the difference between MY lane and YOUR lane. Get off the cell phone, quit texting, stop changing the radio station, and just freaking DRIVE

Never in my life have I ever been as stressed out as I was yesterday when I finally got home from visiting my Grandmother. You Idiot drivers literally caused me instance after instance in the traffic, and by the time I got off my exit...I was suffering from chest pains. I mean really; there is absolutely no reason at all to drive the way you drive. You are NOT the only drivers on the road, and I demand to know the name of the officer who granted you a drivers license. Evidently, he/she was as big as an idiot as you are. GET OFF THE ROAD!
With Hate,
Samantha