I know that I have already done a Wordless Wednesday for the day, but I was attracted to this brand spankin' new blog carnival that Shell from
Things I Can't Say
has started up.
Pour Your Heart Out
is where you pick a topic, any topic, and express your honest feelings/opinions about it. I think it's nice to have one day dedicated to seriously express yourself about a certain topic that you feel strongly about. So, if you want...just pick up the button below, and join in on the new
Pour Your Heart Out
blog carnival!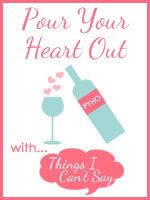 Today,
Shell
was talking about a post she had written a week or so ago, when her husband was in a pretty bad car accident. Thank God he was okay, but she was reminded of quickly things can change and how much she loved him. She shared with everyone about how their marriage had not always been perfect, and was surprised to find how most people had the same experience with their marriage. It made me think about my own marriage.
When Paul and I got married, I am almost willing to bet that there were people putting down money on how long we would last. Some probably said 6 months, others a year. I don't know any of this for a fact, but I do know how people think. Consider the circumstances we got married in. I was pregnant, and had only dated Paul for six months. Let's face it, statistics don't even give us much of a chance, much less judgmental people. I'm a little sensitive to this fact.
Most of the time, I feel like I need to act like my marriage is perfect. If I even hint that Paul and I have been fighting a little, or that something about Paul drives me crazy...I feel like people will start betting more money on how much longer until we file the papers. I don't think that this is true for everyone I know, but I have
acquaintances
that I know would love to see me and my marriage fail.
My marriage isn't perfect. There have been times when I just think that there is no way we are going to make it; that maybe statistics are right. There have been times when Paul has gotten on my nerves so bad, I don't know how I could even sit in the same room with him. There have been times when he has made me so angry, hurt me so bad...that I have no idea why we even got married. But those are just
times
; they're not constant thoughts or feelings. No one has a perfect marriage, and people who aren't married, shouldn't be allowed to have an opinion on other people's marriage. Unless you are married, there is no possible way that you can express an opinion on a topic like marriage, without having experienced it. That would be like me having an opinion on what deep fried bull testicles taste like - I don't know, I've never had them.
So, today...I'm pouring my heart out. I want to let everyone know that my marriage isn't perfect, but I have never been more in love with anyone else in my life than I am with Paul. We're young, we're stupid, we have terrible tempers, but at the same time we love each other and care for each other enough...to keep working on our marriage. We have a beautiful, two year old daughter, who is the center of our world and we work together to make her the happiest little girl this world will ever see. We have grown up quiet a bit in the three small years that we have been married. I have found myself maturing in the way I handle things and say things, and he's picked up on all of the suttle hints I drop when I need a little bit of help. To me, the most important thing for me to remember, is to not forget the man I fell in love with. He's still there, he's just covered in a few new layers.