It's
Pour Your Heart Out
Wednesday, and boy do I have some pouring out to do! Feel free to shout, "Amen!" at any time during this post if you feel my pain! Oh, and if you want to join in on
Pour Your Heart Out
hosted by the beautiful
Shell
...just click
here
to get started!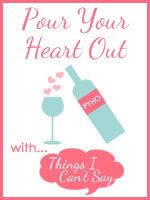 I had to become a Mother (or a Parent) before I could understand why my Mom & Dad got so frustrated when my Grandparents would send us home from their house with...and I quote
"crap"
. No, I don't mean literal
crap
; I mean junk. Stuff that my Grandparents had been hanging onto for years. Little knick-knacks that they had picked up at various yard sales. Annoying toys that they had bought us at Wal-Mart while we were in their possession. Aggravating little toys that came in the kids meals they got for us at lunch.
I can still see the look on my Dad's face whenever we would hop into the van with our "new"
toys
crap in hand. My brothers and I knew what that look meant. It meant we had better hide our
toys
crap, because my Dad would jump at tossing them in the garbage can the first chance he got. Still, we smiled and we were happy, because we had new crap! True, we would forget about our new crap in a few days or so, but until then...we would love our crap.
Now, I have a 2 year old and it seems that lately her Grandparents have been sending her home with lots of
toys
crap. It's really starting to get pretty annoying. I mean, we live in an apartment. I have very
little
storage space, if any! I have enough stuffed animals that I could open my own Build A Bear, and who authorized letting Papa buy Bree Mega Blocks for Christmas?! And just the other night, as we were leaving the Grandparent's house...my daughter comes waltzing out the front door with a Hello Kitty Easter basket!
WTH?!
Easter was a few weeks ago...and why?! Why do you want to do this to me? It seems half my life is spent cleaning
toys
crap up, and now you're sending her home with
more?!
What did I do? Why do you hate me? I did nothing to deserve this! Please, take your crap to the dump, or Goodwill, or the local Salvation Army, but
PLEASE
, for the love of God and all that is good on this Earth, don't send it home with me!
...okay, I think I'm done venting. Thank you for listening. Now, if you will excuse me...I have some
crap
stuff to get rid of.