I've been slack. I'll be the first to admit it, but I haven't really had the time to sit down and blog. Why? Well, this past weekend was just one chain of events after another.
Saturday
Paul and I were planning to make a day trip to Charleston for our anniversary. The local forecasters had predicted rain, and lots of it, but who actually believes the weatherman? So, we ventured out early Saturday morning, dropping Bree off with my Parents for the day and hitting the interstate. I hate the interstate by the way. It had been raining hard, but I thought that the further south we would go, it would begin to let up. About two and a half hours down the road, the rain still had not let up...and I am pretty sure it was just getting worse. I'm not exactly sure how far out of Charleston we were, but we turned around and headed back to Columbia (our State Capital). We decided that instead of the beach, we would settle for the State Museum. So, that's what we did, and we enjoyed our day at the Museum. We had alot of fun just being together without Bree. I didn't miss Bree as much as I thought I would. I think that means that I desperately needed a day away from her.
Saturday Evening
We got back to Greenville around six o'clock or so, and Paul wanted to take me out to eat for supper. So we did, and that's when Paul thought about the new puppy that we were supposed to be picking up Sunday. He called up the lady and we ended up going to get Tucker, the new family pet. We had thought that we would call him Dupree, but with further thought we decided it would be very hard to say Dupree when calling him. Nevertheless, we thought that we would surprise Bree with him when we went to pick her up from Parents. I was excited, and I couldn't wait to see the look on Bree's face when she saw the puppy! Well, all of my hopes were shattered when I showed Bree the puppy and she walked directly past me...more or less ignoring me. I'm not real sure what that was all about, but she eventually began to pay the puppy some attention, and then quickly became jealous of any interactions between me and the dog.
Sunday
It was still raining cats and dogs outside when Sunday rolled around, and evidently the local weathermen were calling for snow and lots of it. This isn't the first time this Winter that they've called for snow, and we hadn't seen any of the "white stuff" yet. So, needless to say...I didn't believe them. There was one thing for sure though. It was cold, and it was getting colder and I was more afraid of ice than I was snow. So me, Paul, and Bree all piled into the car and headed to the grocery store. I thought that maybe the grocery store would be FULL of people like it usually is when the weatherman calls for snow, but there was hardly anyone there. Evidently, they didn't believe the weatherman any more than I did. We got our groceries & headed home as I battled "lazy hunger". Around five o'clock though, it began snowing. I couldn't believe my eyes. It was coming down fast, and heavy and it was actually sticking to the ground! We waited a couple of hours, and then took Bree out to play in it a bit.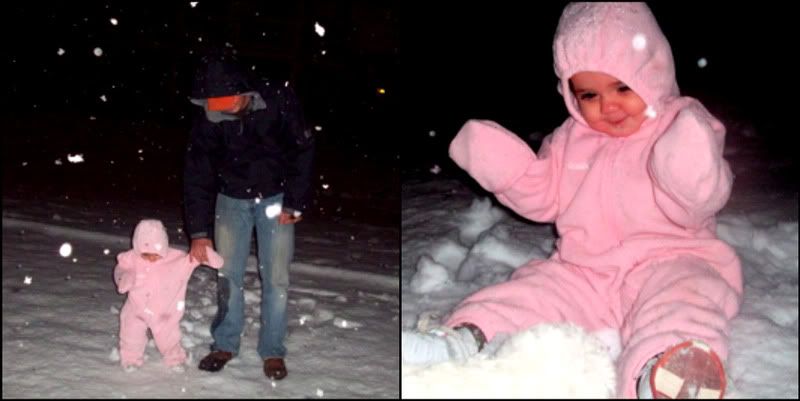 Monday
I was pretty upset when Paul still had to go to work, even when his car door was frozen shut. One of his co-workers came and picked him up in big truck. I guess it wasn't going to have any problems with the icy roads. It didn't, seeing as Paul got to work safely. I dressed Bree up in a Columbia fleece body suit, blue jeans with a cloth lining in it, and thick jacket. She couldn't walk, and she couldn't put her arms down. It was hilarious. She didn't know what to think of the snow once we got out there. I think she was wondering why I carried her out there, stuck her in the snow, and we just stood there in the cold. Finally she started to walk around a little bit, and then just when she was getting used to it all...she toppled completely forward and face planted the snow. I couldn't stop laughing.

I guess things have gone back to normal, but I can honestly that was one hell of a weekend. It was completely random, but we made it through and I don't guess things were all that bad. But honestly, through all of that...when would have I had time to blog?