Welcome back to the second edition of
Pour Your Heart Out
. Once again, I am linking up with
Shell
from
Things I Can't Say
. Feel free to
join
in!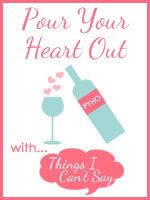 Monday night, a senior in the high school that my baby brother attends, was killed in a car accident. Around 8 p.m, the driver of the car ran off of the road and hit a tree. The boy that was killed, was a passenger,
not
wearing a seat belt, and was therefore ejected from the car upon impact. He was pronounced dead at the scene.
He was 19 years old.
His life had not even started before it was ended.
How incredibly sad I am for his family, and his friends.
Accidents like this do not have to happen, but they do. Every. Single. Day.
He wasn't the first person to die in a car accident from this high school, and I know he won't be the last. I wonder how many of their friends have to die, before they realize that driving reckless can kill you and how important wearing that seat belt is?
My life was nearly taken from me four years ago in a
car accident
that was caused by a man who was not paying attention, and speeding. If things had been different that morning...if I had forgotten to put on my seat belt, or if I was sitting differently in my seat...things may have turned out not so good. My life could have ended when I was 18 years old. I thank God every day that it didn't.
I have a plea, to everyone who holds a drivers license and drives a vehicle; a plea to stop these senseless deaths.
Please, pay attention to what you are doing when you are driving. Pay attention to the road, your speed, the lane you are in. Don't answer the cell phone when it rings. Don't read that text message that comes in. Just drive. Be responsible. Automobiles are wonderful things, and I am thankful to not have to depend on a horse & carriage to get me from Point A to Point B, but automobiles can be dangerous if the people driving them are irresponsible.
So, in honor of this 19 year old male who's life was cut short too soon by reckless and irresponsible driving...let's all drive a little more responsibly. Stop being in such a hurry. Stop showing off your mad driving skills when you have a friend in the car. Stop being stupid...and just drive.