It's Wednesday, and that means it's time for
Pour Your Heart Out
Wednesday! As always, I'm linking up with the beautiful
Shell
of
Things I Can't Say
! If you'd like, you can click the button below to join in, or just click
here
.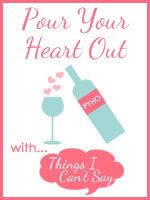 Today, we left for Parris Island to see my brother graduated from Marine Boot Camp. We haven't seen him in 13 weeks, and I know he'll be different. I am excited to see how different he will be, but at the same time, I'm afraid that he may have changed too much. I have to remember that although tomorrow will mark the end of Boot Camp, he will just be beginning the start of his career. We hope that somehow he will be spared from going over seas to the Big "A", but we also know that it is inevitable. It's a scary thought, to know that my little brother will be doing things that I could never imagine doing myself. He will see things, do things, shoot things, say things, that I will never say or do in my life.
I am so proud of my little brother. He has come such a long way over the last four years. He was the teenager that picked the wrong crowd to follow in high school. He experimented with drugs, and alcohol, and basically crapped away his entire high school years. He could have been so much better. He realized this during his last few weeks as a high school senior. It was too late to change what he had been in high school, but not too late to change his life. When he decided that he wanted to join the Marines, we all tried to talk him out of it. There were so many other things he could do besides the Military. We didn't understand why he wanted to do this; and we selfishly didn't want him to leave like we knew he would have to.
Over time, we became
okay
with the fact this was what he wanted to do. He was going to do it anyway, with our support or not. I gained a lot of respect for my Brother during the weeks leading up to Boot Camp, and have gained even more respect for him now that he is more or less a
United States Marine
. I couldn't be more proud of him, and the courage he has developed to serve our Country.
By Friday of this week, I can proudly say that I am a
proud
big Sister of a
United States Marine
.
Congratulations little Brother! I love you.